About Us….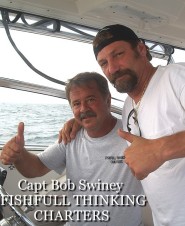 Our main goal is to make our customers happy and put fish in the box. Your experience is our pleasure. Captain and first mate are reliable and prepared anglers, providing you with premium Lake Erie Fishing. We offer over 50 years of fishing experience using the most up to date equipment allowing you to reel in the best Fish in Ohio's water! Click here to find out more about Fish Ohio.
Bob Swiney is a US Coast Guard licensed Master Captain. Bob is world traveled with experience in Louisiana, Florida, The Outer Banks, Bahamas, New York, Canada, and his home base of water Lake Erie. He is a seasoned fisherman and a professional captain, using a mix of tried and true fishing methods and up to date equipment. "if you book with us, you'll find fish!"
Bob Swiney Jr. has been the first mate of Fishfull Thinking since the beginning. He is reliable, upfront and hardworking. Bobby has been fishing and setting up Charter experiences with Captain Bob for years, providing expert and novice fisherman with great time on the lake.
While aboard Fishfull Thinking you will be treated to some of the best fishing Lake Erie has to offer. Whether you are young or old, expert or beginner, Captain Bob and first mate Bob. Jr. will guide you through some of the hottest spots in the central basin for some of the best fishing experiences you've ever had!
While aboard, we offer up to date fishing equipment, bait, tackle, coolers, and great fishing in the waters of Lake Erie. Book your trip today and catch a memory!
Fishfull thinking is located at the Chagrin Marine 226 East Island Drive, Eastlake Ohio Map.  Fishfull Thinking is a 2007 – 33 1/2′ Seaswirl Striper. 11′ Beam powered by twin 250 HP Yamaha outboards.